Whitney Houston Funeral: Emotional, Star-Packed Tribute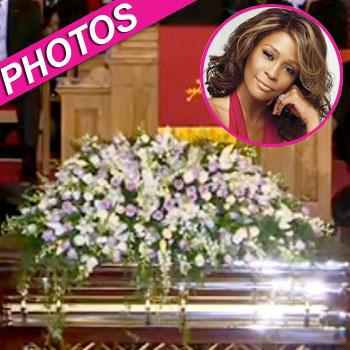 Whitney Houston would have loved her send-off Saturday.
From Tyler Perry channeling his inner preacher, to musical tributes by Alicia Keys, Stevie Wonder, R. Kelly and CeCe Winans, the three and a half-hour funeral was heartfelt, genuine, and loving.
Kevin Costner, Whitney's The Bodyguard co-star and producer, talked about having also grown up with the Baptist Church, and called that his and Houston's "private bond" on the set. He also revealed how frightened and nervous Whitney was before the studio-ordered screen test for the first-time actress.
Article continues below advertisement
Her producer and mentor Clive Davis, who had stood by Whitney even at her lowest points, spoke of their last meeting at the Beverly Hilton hotel, where she told him how she was getting back into shape by swimming every day.
Ricky Minor, her longtime musical director, shared how Whitney came up with the arrangement for her famous Star-Spangled Banner performance at the 1991 Super Bowl
Dionne Warwicke introduced each participant and gave her own eulogy at what was at it heart very much a church service.
As RadarOnline.com previously reported, Whitney's ex-husband left the church when his large entourage was turned away at the door.
Fortunately that seemed to have been the only hiccup in what was otherwise a memorably sweet tribute.
It ended with a performance by the Winans family and a eulogy by preacher Marvin Winans.
A recording of Whitney singing I Will Always Love You played as her casket was taken down the aisle.