Bobbi Kristina Didn't Know About Dad Bobby Brown Controversy At Whitney Houston Funeral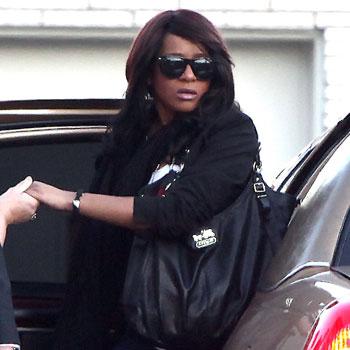 Bobbi Kristina Brown sat in the front pew for her mother Whitney Houston's funeral, and fortunately wasn't aware of the controversy involving where her father Bobby Brown and his entourage would be seated.
The teenager, who was twice hospitalized in the 24 hours following her mother's sudden death February 11, was comforted by her grandmother during the service.
In an interview with CNN, the Rev. Jesse Jackson, who was on stage throughout the service, revealed that neither Bobbi Kristina or Cissy Houston saw the unfortunate incident going on two rows behind them.
Article continues below advertisement
Jackson didn't defend Brown arriving with an entourage of nine people but did say he thought Brown's own seating "could have been handled better."
As RadarOnline.com reported, Brown claims that he and his "family" were asked to move three times before they finally left the church.
More in keeping with the genuine emotion of the day, Whitney's producer and mentor Clive Davis spoke directly to Bobbi Kristina during his poignant remarks.