'Bad Ass' Bobby Brown Pays Bizarre Tribute To Whitney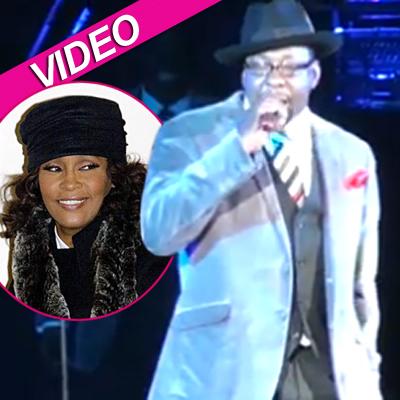 Whitney Houston's ex-husband Bobby Brown took the stage in Maryland's Showplace Arena Thursday and paid an unusual tribute in memory of his ex, who he was married to for 15 years.
"I'd like to say thank you all. I'd like to say thank you for your prayers. I'd like to day thank you, period. I'm going to throw two up for Whitney -- that's my love" Brown told the crowd, holding up two fingers as a tribute to his late ex-wife.
Article continues below advertisement
Brown then pointed out his three children in the crowd. (His daughter with Whitney, Bobbi Kristina, was not there — more on her later.)
"Life is life ... you have to move on sometimes ... I love Whitney like I love God. My name is bad ass Bobby Brown!" he said to huge cheers from the crowd.
Brown, 43, will be at the invitation-only memorial service at Newark, New Jersey's New Hope Baptist Church Saturday, despite the bad blood brewing between he and the singer's family. Right after, he'll jet to Connecticut right after for a performance at the Mohegan Sun Casino, and is slated to perform the following day at the Newark PAC in New Jersey.
As we previously reported, the Every Little Step singer flew into Los Angeles late Sunday to be at the side of his 18-year-old daughter Bobbi Kristina, who was hospitalized twice in a 12-hour span at Cedars-Sinai Medical Center following her mother's untimely death over the weekend.
He later issued a statement to ABC News Tuesday addressing Bobbi Kristina's state of mind, and pleading for privacy during the tough time.
Article continues below advertisement
"My daughter Bobbi Kristina is doing much better," Brown said in an e-mail statement. "We continue to provide love and support to Bobbi Kristina. She is dealing with the tragedy of her mother's death and would prefer to do it outside of the public eye.
Watch the video on RadarOnline.com
"I ask again that our privacy be respected."
Upon learning of the death of his ex-wife on Saturday, Brown told concertgoers during his New Edition concert in Mississippi: "First of all, I want to tell you that I love you all. Second, I would like to say, 'I love you Whitney.' The hardest thing for me to do is come on this stage."