Exclusive
Bobby Brown Needs 'To Cancel Remainder Of Tour & Be With His Daughter,' Says Source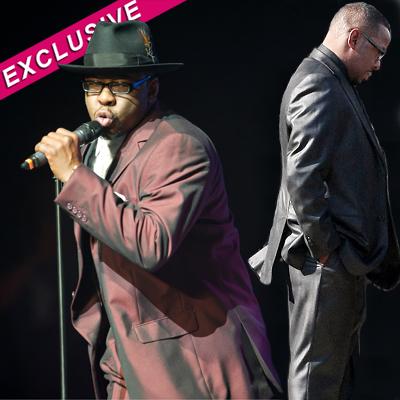 By Jen Heger - Radar Legal Editor
It was only a few weeks ago that a mother and father took their teenage daughter out to dinner in Los Angeles, and even though the parents were divorced, they appeared very loving towards each other and their only child, and now that happy evening will be cherished by Bobbi Kristina Brown, as her mother, Whitney Houston was laid to rest in New Jersey on Sunday.
However, as reports swirl that Whitney's only child with Bobby Brown is doing drugs, friends of the late pop superstar are telling RadarOnline.com exclusively that Brown needs to ditch the remainder of his New Edition tour to be there for his daughter, and help her deal with her demons.
Article continues below advertisement
There is plenty of bad blood between Whitney's family and Bobby Brown, but friends of The Bodyguard star tell RadarOnline.com they need to put their differences aside, and "come together to help Bobbi Kristina. She is clearly in trouble, and she doesn't need to be put in the middle of her father and her mom's side of the family," a source close to the situation tells RadarOnline.com.
"Whitney wouldn't want that. Bobby needs to drop out of the New Edition tour to be with his daughter. Even though there is a break in the tour right now, until March 29, when it resumes, his first priority needs to be his daughter, and keeping her safe. Yes, Bobbi Kristina is eighteen years old, but she is clearly crying out for attention, and Whitney's family is terrified they could be planning Bobbi Kristina's funeral next."
Article continues below advertisement
During the last time that Bobbi Kristina had dinner with both of her parents in Los Angeles, they discussed their daughter entering show business. "They were so excited about Krissy's (their nickname for her) future. Krissy loved being with her parents who had made peace with each other in recent years. Whitney and Bobby genuinely got along, and wished each other well," the insider says.
"Bobby Brown needs to physically go and get his daughter and take her to a remote location and let her mourn the loss of her mother away from prying eyes. Line up some mental health professionals, but Bobby needs to do it. The problem is that Bobby is fearful of making more headlines, or upsetting Whitney's family, but this is his daughter."
One of the obstacles Brown faces is that Bobbi Kristina "is wise beyond her years, and he feels guilty for his actions in the past. Another problem is that Whitney treated Bobbi Kristina like a friend during recent years, and at times Krissy seemed like the mother or the adult in their relationship," the source says. "They were constantly together and extremely co-dependent on each other, making this loss for Krissy even more complex. No, Bobby can't replace Whitney, no one can, but he is the only father she has and she was always daddy's little girl," the friend says.