Exclusive
Whitney Houston Death Investigation: New Mystery Around Raffles Van Excel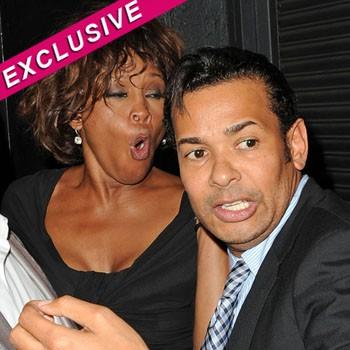 Raffles Van Excel, the Whitney Houston hanger-on who is now at the center of the investigation into the singer's death, has been caught in what could be a damning contradiction about what he did in hours immediately following the discovery of her lifeless body.
As RadarOnline.com previously reported, a witness has come forward and told Beverly Hills Police Department detectives that Van Excel was one of Houston's cocaine suppliers and cleaned out her room at the Beverly Hilton hotel before law enforcement got to the scene.
Article continues below advertisement
A Dutch website even reported Van Excel saying about cleaning up the room, "Somebody had to do it." But in an interview with the National Enquirer, Van Excel insisted "I didn't say that."
Now RadarOnline.com has discovered audio of Van Excel, talking to the Dutch Internet site RTL XL where he says that and more!
"We were in a small club, it was very hot inside. We were in front of the stage, we could barely turn to left or right, like sardines in a can," the Dutch national said.
It was fun and crowdy and when it was time to leave, we left. She had a very good time. She was happy. It was just a night out."
And after her death, Van Excel said it fell to him to clean up her suite.
"I'm gathering all her clothes now," he said. "We are checking out from the hotel tomorrow so someone's got to do it."
With Van Excel possibly back in the Netherlands, it is uncertain what access cops will have to him as they investigate where Whitney got the cocaine that was found in her system. There was no cocaine on the scene in her room.