Ray J Blasts Claims He Bought And Gave Whitney Houston Drugs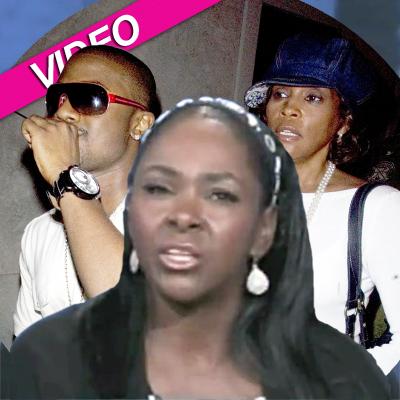 By Adam S. Levy - RadarOnline.com Staff Writer
Ray J is blasting claims made by Whitney Houston's former sister-in-law Leolah Brown that the hip-hop star was little more a gopher for her to get illegal drugs -- including the cocaine the Los Angeles coroner Thursday confirmed was in the singer's system at the time she accidentally drowned.
Leolah, who is the sister of Whitney's ex Bobby Brown, told HLN's Dr. Drew Thursday night she felt something didn't add up when Ray J -- normally a ham for the cameras when Whitney was by his side -- left the Beverly Hills Hilton after Houston's death six weeks ago "hiding his head being pushed into the car.
Article continues below advertisement
"Why is he hiding? Why is he hiding his face?" Leolah asked, adding the brother of singer Brandy "always tried to show his face when he was around Whitney."
Leolah said when she found out about the singer's February 11 death, her first thought was, "My God, Somebody gave her a bad bag" of cocaine.
"I promise you that was the first thing that came out of my mouth," she said. "Then I saw Ray J: And it all added up."
Leolah said that in private conversations, the "I Will Always Love You" singer laughed off rumors that she and Ray J -- best known for his roll-in-the-hay with Kim Kardashian on their 2007 sex tape -- were romantically involved.
Watch the video on RadarOnline.com
"I am going to believe that Ray J -- who Whitney told me she had no relationship with ... he was, like she said, a runner boy. He was buying drugs for Whitney for what I know, and giving her drugs."
Article continues below advertisement
Dr. Drew, upon hearing Leola's bold claims, reminded viewers that neither HLN or CNN could confirm the claims his guest had alleged.
Ray J, 31, was quick to answer the accusations, as his rep released a statement to the media following the broadcast.
"Even though Leolah Brown was nowhere near the Beverly Hilton Hotel on the day Whitney Houston died, Ms. Brown falsely claimed that Ray J was at the hotel and contributed to Whitney Houston's death," his rep said in the statement. "Even the most minimal inquiry with anyone actually in contact with Whitney would reveal that Leolah Brown had been out of contact with Whitney for more than a year."
Los Angeles Assistant Chief Coroner Ed Winter said Thursday that tests revealed Houston was a chronic cocaine user who'd indulged in the illegal drug prior to her death. The exact amount of cocaine in Houston's system when she died will be determined via more tests, the results of which will be made public in several weeks, Winter said.