Who Did Cocaine With Whitney Houston Before She Died?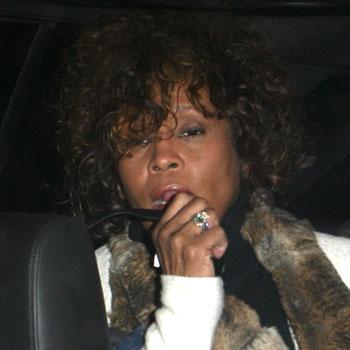 Whitney Houston had cocaine in her system at the time of her death, begging the question, who was partying with the tragic star on that fateful day?
As RadarOnline.com previously reported, toxicology reports were released Thursday, stating that "Cocaine and metabolites were identified and were contributory to the death. Marijuana, Alprazolam (Xanax), Cyclobenzaprine (Flexeril) and Diphenhydramine (Benadryl) were identified but did not contribute to the death."
Article continues below advertisement
The official cause of death was ruled as "drowning and effects of atherosclerotic heart disease and cocaine use," contradicting earlier, incorrect, media reports that no water was found in Houston's lungs at the time of death and that she had not drowned.
There are gaping holes in the known timeline of Houston's final day on earth. Her 19-year-old daughter Bobbi Kristina, claims to have spent the previous day and night with her mother, telling Oprah in an emotional sit-down, "I went to go get her and I said, 'Come lay with me.' She stayed with me all night and all day. She was just rubbing my head and holding me. I just slept in her arms."
Houston's cousin and close friend, Dionne Warwick, is one of the last known people to speak to Whitney alive, telling Good Morning America, "I spoke to her the morning of her death. She said, 'You're here, aren't you? You're coming to the party, aren't you?' I said, 'Yeah, I'm going to be there' and she said, 'Thank you, I want you to be here. You've got to be here for me.'"
Whitney was discovered unresponsive in the bathroom of her room at the Beverly Hilton hotel by her assistant Mary. Houston's bodyguard Ray rushed to the room and a 911 call was placed at 3:43 pm, paramedics were on the scene in two minutes and when they got to her room on the 4th floor there were already hotel staff attempting CPR on Houston. At 3:55pm she was pronounced dead.
Article continues below advertisement
By all accounts Houston had been in an upbeat and positive mood that day, preparing for her close friend and mentor, Clive Davis' annual Grammy party later that night.
Warwick, 71, recounts, "I spoke to her that afternoon once I landed in L.A. and that was it. She was so up and ready and happy. She had everything in the world to live for. She had a new film that was an absolute dream to make and do. She was getting ready to go back into the studio to record. She was getting her vocals together."