Whitney Houston's Deadly Cocaine Cocktail: Who Cleaned Up The Evidence?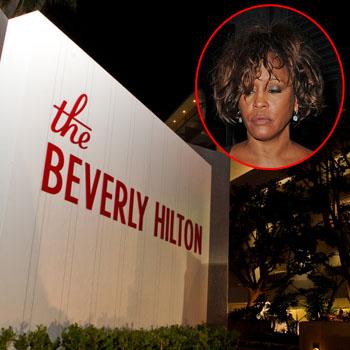 By Amber Goodhand - RadarOnline.com News Editor
Cocaine played a major role in the tragic death of Whitney Houston, yet no traces of the illegal substance were found anywhere in the hotel room where she died — leading many to ask, who cleaned up the scene before authorities arrived?
On Thursday the Los Angeles County Coroner's Office released the 48-year-old singer's official cause of death, stating she drowned because of heart disease and cocaine use.
Article continues below advertisement
Just one month after her death, Whitney's sister-in-law Patricia Houston revealed in an interview with Oprah Winfrey that it was her assistant, Mary, who first found Whitney drowned in the Beverly Hilton Hotel bathtub and it was her brother and Whitney's bodyguard, Ray, who performed CPR to the point of exhaustion before paramedics arrived.
"As I got closer and I turned the corner, Mary's at the door and she's screaming 'Oh my God.' I told her to stop — I said 'Calm down, please,'" Patricia told Oprah as she relived the scene.
"When I got into the room, I saw my brother Ray, the security guard, trying to revive her to the point of exhaustion and I called his name. I said 'Ray, let it go.' They asked him to move, he was on his knees, and he said 'I tried.' I felt so badly for him."
But while Mary was in hysterics and Ray tried to save her life, who was cleaning up?
Whitney's 19-year-old daughter, Bobbi Kristina, told Oprah she spent the night with her mother but that day her aunt, Patricia, says she was on the balcony in a neighboring room when Whitney's body was found.
Article continues below advertisement
Authorities stated during their initial investigation that no illegal drugs were found at the scene, yet toxicology reports state, "Cocaine and metabolites were identified and were contributory to the death. Marijuana, Alprazolam (Xanax), Cyclobenzaprine (Flexeril) and Diphenhydramine (Benadryl) were identified but did not contribute to the death."
Cocaine residue and traces of drug use had to be evident in the hotel room, with someone from her team scrambling to clean up the scene before authorities arrived.
While a 911 call was placed to the Beverly Hills Police Department at 3:43 p.m. on February 11 and they were on the scene in two minutes, the I Will Always Love You singer was pronounced dead just 12 minutes later, at 3:55 p.m. with no indication as to how long her entourage waited or attempted to save her life on their own before making the call.
Who else was in that room and who cleaned up what ultimately contributed to the troubled star's shocking death?