Justin Bieber And Selena Gomez Get Into Serious PDA On Set Of 'Boyfriend' Music Video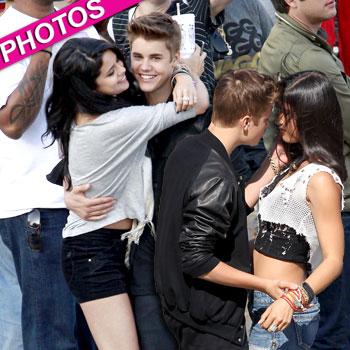 Selena Gomez and Justin Bieber ramped up the PDA on the set of his new music video on Saturday with some sizzling action.
The 18-year-old pop star was filming scenes for his new song Boyfriend -- with a Selena look-alike no less -- when the real Gomez came for a visit and the pair could barely keep their hands off of each other in between takes.
At one point Selena, 19, jumped into Bieber's hands and wrapped her legs around his waist and he carried her around in the intimate pose.
Article continues below advertisement
Lots of hugging and kissing ensued and they didn't care who saw them. The pair isn't shy of showing off their lust for each other and are frequently seen engrossed in public touchy-feely sessions.
Selena may have wanted to make her presence felt as Bieber was filming some romantic scenes with a girl who looked amazingly like her as his love interest in the video.
Bieber and Gomesz then went off to their SUV to listen to music and get some more alone time with the brunette beauty sitting on her beau's lap while they enjoyed some time out.