Selena Gomez On Justin Bieber Kiss Cam: 'The Most Humiliating Thing That Has Ever Happened To Me!'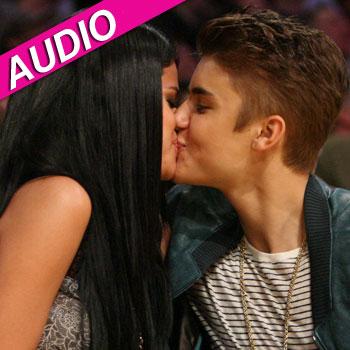 Article continues below advertisement
The Monte Carlo star continued, "They were showing these little elderly couples, and it was so cute. Then all of a sudden we're both looking up and we come on the screen and it's like … it was so awkward.
"It was so weird. I mean you have to kiss, right?" Selena said, adding both she and the Biebs had appeared on rival shows that night (she on Dancing with the Stars, he on The Voice).
Selena said fans of her boyfriend and the award-winning songstress Swift will be pleased with their upcoming collaboration.
"They wrote a song together and it's beautiful -- it's amazing -- I don't know if it will make the album, but if not I'm sure they'll release it at some point, because it's a really great record," she said. "It's kind of like … it's Taylor and Justin combined. So it's a little bit of an upbeat song, but it's very acoustic."
Selena co-stars in the film Spring Breakers with James Franco (who's a big fan of her music, incidentally).
Article continues below advertisement
She said of the actor: "He's got that charismatic thing about him that all the characters are kind of drawn to him, and my character's the one that is less attracted to him, but he kind of feeds on that.
"He kind of likes that."