Justin Bieber Gets Slimed At Kids Choice Awards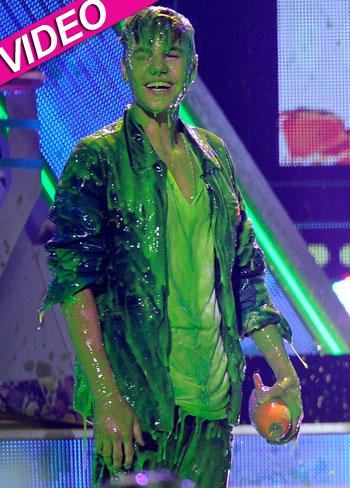 The 25th Annual Kids Choice Awards was a slimefest! Everybody from Halle Berry to Taylor Lautner to host Will Smith and favorite male singer Justin Bieber was literally drenched in the green goo.
Taylor Swift, who was presented with The Big Help Award by none other than Michelle Obama, managed to escape the green stuff, but the same can't be said of her fan from the White House.
When the time came to drench the Biebs on stage, Mrs. Obama, who was in one of the front rows, had to literally duck for cover!
Article continues below advertisement
With Justin and Will Smith under a downpour of green, the First Lady was laughing and obviously having a great time just a few feet away...We can only imagine how her Secret Service detail looked in green.
You can watch the video of the hilarious moment here.
KCA 2012: Justin Bieber Gets Slimed!
Get More: Kids' Choice Awards Episodes,Kids' Choice Awards,Kids' Choice Awards Games
RELATED STORIES: