Exclusive
Justin Bieber Snubs Fan With Down Syndrome At Meet And Greet: 'It's Disappointing,' Says Mom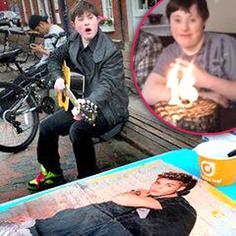 Spitting on bystanders, dancing topless on a bar and even peeing in buckets -- Justin Bieber hasn't exactly been a model of good behavior in recent weeks. But his latest stunt could mark a new low: At a meet and greet in Boston on Friday night, Justin snubbed a fan with Down Syndrome.
For months, Jared Bedard of Newburyport, Massachusetts worked round the clock, fundraising for Cure AT/RT, a child's cancer charity, by singing at local restaurants and on the streets of his home town. By July, he had raised $7,000 on a GoFundMe page. It was an impressive feat, made even more so by the fact that the 16-year-old has Downs Syndrome.
Article continues below advertisement
Jared was driven by the knowledge that if he raised enough money, he'd win a meet-and-greet with Justin Bieber, who's made CURE/ART a personal cause after Belieber Avalanna Routh died from the disease last year. Jared and his mom Karen were thrilled to meet his idol on Saturday night. But now, his dreams have been smashed after Bieber barely interacted with Jared and failed to acknowledge his efforts.
"I didn't know what to expect, but I wasn't expecting that," his mom, Karen, tells RadarOnline.com exclusively. "Personally, a meet and greet, I was expecting to really meet him, like maybe 20 people, tops. But they were doing photos in groups of 5, all screaming girls, in and out. It was just crazy."
When it was finally Jared's turn, he ran up and tried to get a spot close to his idol, "Jared told me that Justin said 'What's up man' to him, but that was it," Karen claims. "I was just thinking Justin would talk to him a minute alone. Not like an hour or something, just even a minute. Maybe shaking his hand and saying, 'Congratulations buddy!' I tried to say, 'This is Jared. He won, he raised money to fight childhood cancer,' but it was too loud and Justin didn't hear me."
Article continues below advertisement
"I know there were a lot of people there who had paid for the meet and greet, but it was a huge thing for Jared," Karen explains. "It was a huge undertaking for him to raise the money to meet him. I just don't know any more."
Still, she doesn't blame Justin totally. "I think his publicists probably just told him to just show up and pose for a few pictures and be done," she says. "He probably didn't know."
The concert after the meet and greet was much better, Karen says. "We had the most awesome seats, second row," she says. "It was still awesome."
In the end, Karen says: "Yeah, it's disappointing, but it was a great cause to work for and it was something that we enjoyed doing. Jared had a blast doing it. He's the real rockstar around here."