Ego Out-of-Control? Justin Bieber Makes Bodyguards Carry Him Up The Great Wall Of China, Sprint Behind Him While Skateboarding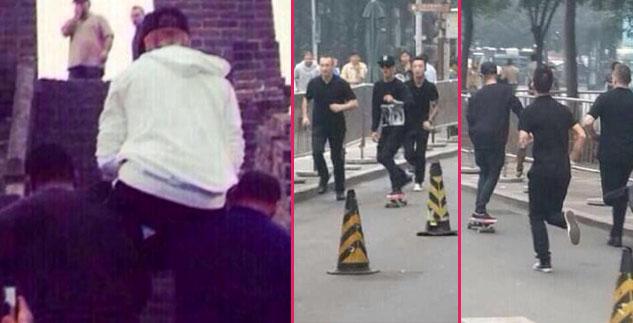 Article continues below advertisement
Instead of being outraged, Beliebers were amused when photos of the stunt at the Great Wall emerged on Twitter.
"I still can't get over the fact that Justin made his bodyguards carry him to the top o sic the great wall of China," user @MusicOfKidrauhl wrote. "He is lazy like me haha"
"Only Justin would have somebody carry him up the Great Wall of China," user @bieberandsupras wrote. "Aw my baby boy."
But some didn't find it so funny. "Justin, dude, u actually asked people to carry you?" @ohkidrauhlfeels wrote. "Someone's going a little diva I see."
Hopefully the guards are in good shape, because the day before, his team had been put to work running after him as he skateboarded around town in Beijing.
Brainwashed Beliebers only laughed at the photos in this case as well, but a few aired some concern.
"I feel for Justin's bodyguards," @drewsrauhlx wrote.
Added @justinismybabe7, "Justin's bodyguards must be very highly paid."
Is it all part of a day's work for Justin's guards? Or is he going above and beyond to humiliate them? Let us know what you think in the comments!