Yippie Ki Yay? Justin Bieber Reportedly Directed Bodyguards In 'Die Hard'-Style Attack — Fueled By A Bow Tie!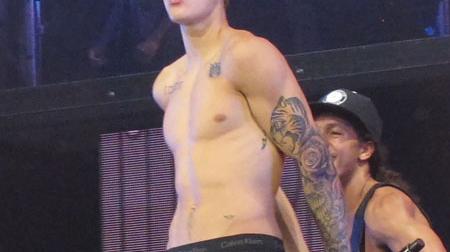 Police in the Hamptons are investigating accusations that Justin Bieber instigated a bloody brawl at Southampton's South Pointe nightclub Saturday by sicking his mammoth bodyguard on a man who rubbed him wrong, RadarOnline.com has learned.
"That would be part of the investigation, whether Bieber directed them or not," Southampton Police Sgt. Todd Spencer told the NY Post of the melee, which left a 22-year-old man named Wayne Rennalls hospitalized with a black eye, bruised ribs and a smashed lip in its' wake.
Article continues below advertisement
Sources told the paper that "a little white H&M bow tie" Rennalls -- who filed an assault claim with authorities Sunday -- was wearing sparked the incident, after a bottle girl at the club tried it on.
"Justin was flashing all these girls with his flashlight," an insider told the paper. "The girl with the bow tie went over to Justin and Wayne followed because he wanted his tie back. Then, Bieber's people got in his face … he eventually got the tie back."
But the problems didn't end there, the source said.
"It escalated outside when we heard Bieber yelling and talking s*** … he was screaming in Wayne's direction, 'Punk b***!'"
With tension high, the source said he "heard someone yell, 'You done f***ed up now!'" at Rennall.
"Justin jumped out the sunroof of his car and slid down the car like he was in 'Die Hard,'" the source said. "He dropped his shirt and threw his hat and wanted to throw hands. His people surrounded Wayne, who was getting punched from all angles."
Rennalls' pal Frank Johnson, who saw the altercation, said Bieber's courage was likely fueled by the safety of his burly entourage.
"When you have huge security guards backing you up, you get extra bold," Johnson said. "This isn't a macho thing. Justin was talking s*** from the safety of his car -- and then it was pandemonium."
Bieber's camp denies the singer's involvement in the incident.
It's the latest incident in a string of them, in which the once fresh-faced singer has acted out with bad behavior that could be described as bratty as best, and in the process, has called the singer's long-term career viability into serious question.