Exclusive
Justin Bieber Parties With Brunette Til 6 AM in NYC -- After Blonde Rejects Him!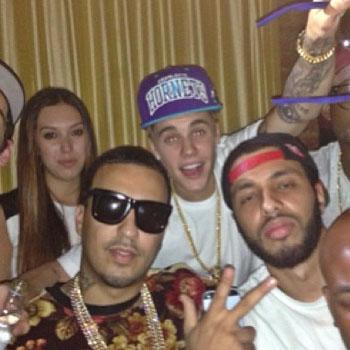 If at first you don't succeed, try, try again! Justin Bieber partied with a brunette until 6 am on Tuesday night, after being rejected by a blonde around 2 am on Monday!
Monday night, Bieber first tried to hit up Griffin nightclub in the MeatPacking District around 2 am, but never made it past the door.
"His security team scouted inside to get a table for him," a club insider tells RadarOnline.com exclusively. "But Bieber was denied entry because he is underage."
Article continues below advertisement
So, he headed over to Catch nightclub, where "he was surrounded by blondes," a source told Hollywoodlife.com.
One in particular caught his eye, and he asked her for her number, but she declined.
The girl explained, "He was really surprised when I said no and he said, 'Don't you want to hang out at the after party?' But it was already 2 a.m.! I just looked at him and said no, laughed and then left with my friends."
The next night, RadarOnline.com has learned, he was ready to try again. According to multiple eyewitnesses, Bieber arrived at 1oak nightclub around 4:30 am to party at rapper French Montana's table. French Montana is part of the "Coke Boys" posse and first became famous through "Cocaine City" mix tapes.
Beautiful blondes, brunettes and even a redhead were spotted hanging with the group, but Justin was spotted getting particularly close to one brunette in a tight white dress with black accents.
Justin arrived back at his hotel, The Setai Fifth Avenue, shortly after 6 am, an eyewitness tells RadarOnline.com. Twelve hours later, he left again for his concert in Newark, NJ on Wednesday night.
Justin has been on a nightlife tear in recent weeks, partying it up in Boston, Indianapolis, Cleveland and NYC earlier this month.