Exclusive
Bad Boy Bieber Parties Past 3:15 AM With Model, Angers Hotel Staff At The Four Seasons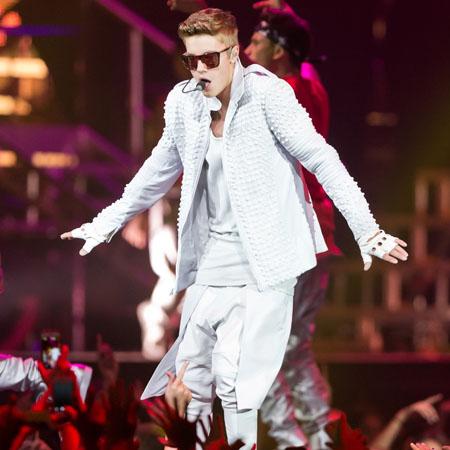 Oh baby. Justin Bieber seems to be inventing more and more creative ways to cause controversy. After partying until the early morning hours on Tuesday night in New York City, he angered hotel staff at the Philadelphia Four Seasons when he failed to show up after reserving 18 rooms.
Justin canceled the block of rooms, including the luxe Presidential Suite "at the very last minute," the Philadelphia Daily News reported.
Article continues below advertisement
"All this occurring after the good folks at the Four Seasons bent over backward for Bieber, moving around reservations to accommodate the singer and his entourage and making sure he had everything he requested," reporter Molly Eichel wrote.
Justin cited concerns about Philly paparazzi, according to the report.
The 19-year-old was also not in a photo-friendly mood when he partied in the basement of The Darby in NYC on Tuesday night.
"Sitting next to Justin bieber at Darby," user @jacybaron tweeted at 1:45 am. "no big deal no photos tho. Not tryna get my phone broken in 8."
After living it up at the exclusive supper club, Biebs and his posse traveled on to 1Oak nightclub -- despite the fact that, at 19, he is 2 years shy of legal drinking age.
Chanel fashion PR intern Mollye Rogel tweeted, "Ending the night with @justinbieber shaking his gold chain over the peasants of 1oak #ifyouweremyboyfriend"
Article continues below advertisement
"Justin Bieber is shaking a diamond gold medallion in 1Oak," Louise Dove, a 5'10" blonde-haired, blue-eyed, British model with Elite Model Management, tweeted at 3:12 am. "Probably the best thing I've ever seen."
According to the New York Post, he took two women back to his hotel room with him after leaving.
Justin was in town to get a tattoo of the eye of his mother, Patti Mallette, on his arm.
"Mom's always watching ;)" he posted on instagram. Increasingly though, she isn't proud of what she sees.
'I definitely think he's getting a bad rap, but I'm also not naive to think that my child is perfect and making all the best decisions of his life,' she told Andy Cohen during a recent Watch What Happens Live appearance. 'He knows what I disagree with, and he knows all the things that I'm really proud of him for, too.'