Elton John Announces New Song About Lindsay Lohan And Justin Bieber's Downward Spirals: 'I Feel Sorry For These Kids'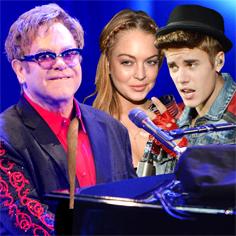 Cocaine binges, delusions of grandeur, millions of dollars squandered -- Elton John has certainly seen the dark side of fame throughout his 50 year career. Now clean and sober, Elton has announced he's releasing a new song as a warning of sorts to troubled young stars including Justin Bieber and Lindsay Lohan.
"I feel sorry for these kids," he says. "I worry that they will just get swallowed up."
The song, called "Diving Board," appears on Elton's album of the same name, his first release in seven years. It's a dark, pensive track with lyrics like "You free fall into the ether," "You fell in love with those dizzy heights."
Article continues below advertisement
And while some might believe it's a retrospective look at Elton own issues, he says that's not the case. "The drugs, the excesses, the millions on flowers, the tantrums and the glasses … " he told Britain's Events magazine. "But it isn't about me. It's about Lindsay Lohan, Justin, all these kids who are out there now not knowing what the hell is going on."
Lindsay and Elton were once close: She attended his infamous Oscar viewing party in 2004 and 2006. But now he says he almost can't bear to look at what she's become.
Although she's just finished rehab, again, Elton explains, "I hate to think of Lindsay because she had a talent," Elton says. "She was a great actress, and then it became all about the madness, the parties, and everyone forgets about what put them there in the first place."
"They get lost in the idea that they are famous for who they are, not what they are," he continued. "I feel sorry for these kids."