Justin Bieber Fan Threatened By Lil Twist -- Not Bodyguard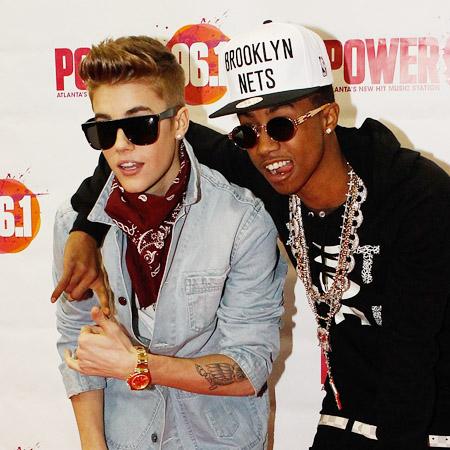 A Justin Bieber fan was threatened by rapper Lil Twist after taking a photograph of Bieber, but it was one of Bieber's bodyguards who took the blame, RadarOnline.com has learned exclusively.
The Beebs and a few friends were shopping at a Best Buy in the San Fernando Valley on Sunday when Justin made time to pose for photos with a few fans and employees.
"Justin asked people not to take photos without asking and said he would pose with anyone who wanted a pic," an observer told RadarOnline.com.
Article continues below advertisement
But one person ignored Justin's request and snapped a photo of the star -- and that's when the trouble began.
Despite reports that Justin's security threatened the person who took the pic, RadarOnline.com has learned that it was Lil Twist who went after the man.
"He tried defending Justin and got in the guy's face and tried to take his phone," the observer said. "The guy tried to get away and Twist went after him. Witnesses were appalled at what was happening.
"Twist created a scene," said the observer.
And that brings up a bigger problem -- Lil Twist seems always to be with Justin whenever any trouble begins, notes an insider.
"The guy is not a good influence ," said one person close to several celebrities who is watching the situation unfold from a distance.
"Justin needs to find a new friend."
After Twist went after the photo-snapping fan, a member of Justin's security team intervened to calm the situation.
"Justin's guard identified himself as part of security and calmly explained that no one wanted to take his phone," the insider told RadarOnline.com.
"The guard calmed the situation after Twist made it a mess."
The fan agreed to delete the photo and Twist calmed down -- for now.