Did Justin Bieber Grope A Fan? The Photo Everyone's Buzzing About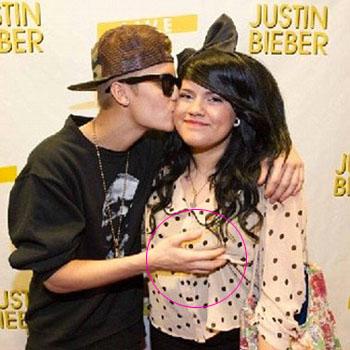 Call it 'Groper-Gate' - the photo that's burning up the Twitterverse that shows Justin Bieber kissing a fan's cheek and appearing to cup her breast.
The controversial picture – taken at a meet-and-greet with Bieber fans in Miami last week – has a lot of people wondering if it really happened, or if it's been doctored, or if it's just a very unfortunate camera angle.
But while it certainly appears the Baby singer, 18, is making an appropriate move on his fan, she herself is saying nothing shady happened.
Article continues below advertisement
The fan - named Jocelyn - tweets as @JocelynnBieber. She first wrote about her brush with the Biebs, saying: "I JUST MET JUSTIN AND HE KISSED ME ON THE CHEEK AND IM GOING TO CRY AKFNRNKSNBDAHANDISKBEIAN."
Jocelyn called the night "AMAZINGLY FLAWLESS" but did not mention any "groping."
Only later, after the now infamous photo found its way to the Bieber Fever fan site and went viral did Jocelyn circle back to add further comment and say it's not what it seems.
She wrote: "IM DYING HAHAHAHHAHA IT LOOKS LIKE JUSTIN'S TOUCHING MY BOOB IN THE PICTURE AHAHAHAHHA I CANT" before re-tweeting to other fans amazed that the teen heartthrob would dare to touch her chest.
"Let me clear this up for people who can't read, NO I did NOT ask Justin to touch my boobs," Jocelyn said as she explained that she'd whispered to Bieber "that it was my 2nd time sneaking in & he kissed me on the cheek in the picture & it looks like his hand is there."
Later, she tweeted, "people can think what they want but I know what really happened & Justin does too so everyone else's opinions don't matter to me."
So what do you really think happened? Tell us in comments below!