Justin Bieber Pulling For Chris Brown On Grammy Night, People 'Should Focus On The Music'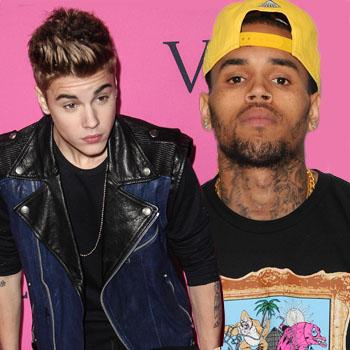 Out of all the people nominated for 2013 Grammy Awards, Justin Bieber is cheering for Chris Brown?
The 18-year-old pop star, who recently split from Selena Gomez amid cheating chatter, endorses the convicted assault felon in the latest issue of The Hollywood Reporter and admits that he is a fan – and RadarOnline.com has the details.
After revealing that he will not be in attendance at the music awards show himself, Bieber shared who he was pulling for and wasn't bashful about his support of Brown.
Article continues below advertisement
"Chris Brown," he said. "I'm a fan. His music is really good. That's what they should focus on: the music."
Brown is currently being investigated on new assault allegations involving an incident between himself and fellow R&B superstar Frank Ocean.
RadarOnline.com exclusively revealed that Brown wants to perform at the Grammy Awards with Rihanna, who he recently reunited with after the assault incident ripped them apart.