Exclusive
Chris Brown Wants To Perform With Rihanna At Grammy Awards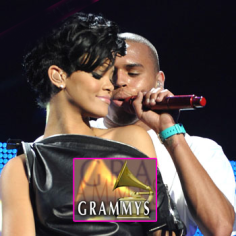 Article continues below advertisement
Many observers are appalled by Chris and Rihanna's recent romantic reunion. The image of her badly battered face is unforgettable and a victim of domestic violence reuniting with her batterer has enraged many.
But Brown sees it differently.
"He wants the fans to know this is the real deal, and he is a changed man," the source said. "If Rihanna can forgive him, the rest of the world should move on from what happened four years ago," he believes.
Producers of the Grammys "haven't signed off on having Chris and Rihanna perform together," a source revealed. "It's an extremely delicate situation and there is concern about the backlash the performance could receive. But it could also be ratings gold."
The couple got back together late last year and the Umbrella singer, 24, posted an Instagram photo of herself at the start of the new year looking out from under a black-and-white polka dot blanket with the caption, "Good morning! Still haven't slept lol #hello2013."
Article continues below advertisement
Brown, 23, also sent a pic from his Instagram - about an hour after Rihanna's post - with a curiously similar blanket, hiding someone under the covers and captioned with the message, "Mornings."
Brown recorded a song, Nobody's Business on Rihanna's new album, Unapologetic. Rihanna is nominated for three awards, including Best Pop Solo.
RiRi appears in promotional commercials for the February 10 show. The ad features Rihanna saying, "When a door closes, you have two choice: give up, or keep going. Let them shut you down, or prove them wrong. We all start somewhere; it's where you end up that counts."