Rihanna And Chris Brown Spend New Year's Day In Bed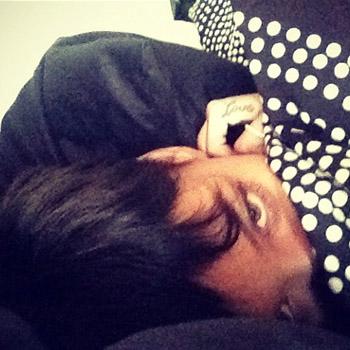 It appears Rihanna got her kiss from Chris Brown at the strike of midnight New Year's day.
The Umbrella singer, 24, posted an Instagram photo of herself looking out from under a black-and-white polka dot blanket with the caption, "Good morning! Still haven't slept lol #hello2013."
Brown, 23, also sent a pic from his Instagram -- about an hour after Rihanna's post -- with a curiously-similar blanket, hiding someone under the covers and captioned with the message, "Mornings."
Article continues below advertisement
It looks like the young lovers, who were seen together watching the Lakers play Christmas day, are at it full force after a year in which they gradually unveiled their relationship back into the public spotlight, and about four years after he infamously beat her after a Grammy party in Los Angeles.
While the We Found Love singer has clearly forgiven Brown, the incident continues to touch nerves with the R&B star whenever it is brought up.