Chris Brown Shares Sexy New 'Morning After' Pic With Rihanna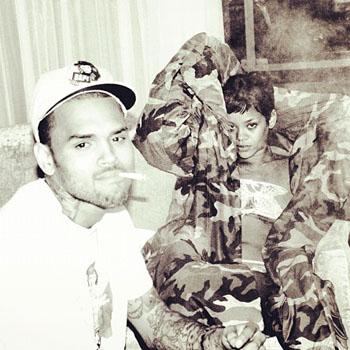 Chris Brown is up to his old tricks, flaunting his relationship with Rihanna. The bad boy singer has posted a sexy "morning after" Instagram picture of them in which he's smoking a cigarette and she's wearing underwear and wrapped in a comforter!
Brown, who assaulted Rihanna in 2009, issued the jaw-dropping photo just a week after engaging in a Twitter war with comedy writer Jenny Johnson.
Article continues below advertisement
After the comic dissed him on her Twitter account, calling him "a worthless piece of s**t ," the Don't Judge Me singer responded by writing, "Take them teeth out when u Sucking my d*** HOE."
Johnson then retorted: "It's 'HO' not 'HOE' you ignorant f**k." Brown couldn't help himself, responding that the comedy writer was "worthless" and a "thirsty bitch." But Johnson ended the vulgar Twitter battle by saying: "I have zero respect for a person who seems unapologetic for the terrible crime he committed and shows no signs of changing."
Although Brown deactivated his Twitter account after the rough war of words, he has since reactivated it and has also been heavily using Instagram. And the singer who has received scathing criticism for his abuse of Rihanna three years ago seemed pleased to show on Sunday that they were still very much together.
As RadarOnline.com has reported, Rihanna recently raised eyebrows by tweeting a photo of a half-naked Brown sleeping on a bed. And late last month, the controversial pair hung out together in Berlin.