Rihanna Tweets Pic Of Shirtless Chris Brown In Bed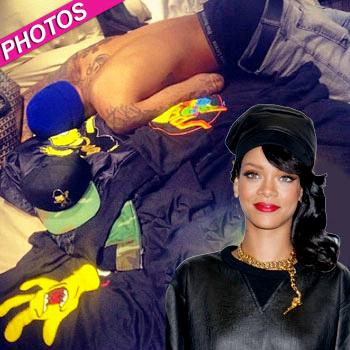 Rihanna apparently wants everybody to know that she and Chris Brown are back on.
With his jeans pulled down so that his underwear is on full display, the tattoo-covered Brown lays sprawled across a bed covered in Simpsons memorabilia. In fact, Rihanna gave the photo the hash tag #SimpsonObsessed.
Earlier in the week, Rihanna attended Chris' concert in Berlin. The two were seen together at his after party and then left together for their hotel.
Article continues below advertisement
Many fans as well as domestic violence experts are stunned that Rihanna has gotten back together with the bad who beat her her badly in 2009.
But the Unapologetic singer has been making it clear in recent weeks that she's forgiven Chris and everybody else might as well get over it.
Not everybody is though, and on Thursday Brown announced he was pulling out of a huge stadium show scheduled for next month in Guyana because several women's groups were protesting his appearance.