Bruce & Kris Jenner Send Mixed Signals At NBA Game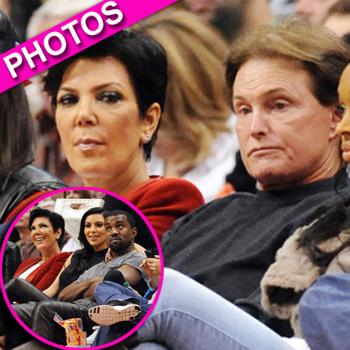 Chris Brown and Rihanna weren't the only couple whose courtside presence caused a stir Tuesday.
As speculation grows that they are headed for divorce, Bruce and Kris Jenner took in the Los Angeles Clippers game at Staples Center Tuesday night, and continued to send signals that a split might be in the making, and RadarOnline.com has the pics.
Both Kris and Bruce wore stone-faced expressions during the outing, and at one point, Bruce watched the game from a different seat. According to the NY Post, Bruce "was seated one row back from the rest of his family" and "conveniently stationed between two gorgeous women."
Article continues below advertisement
As we previously reported, a source told us that "Kris and Bruce are all but over" following Star magazine's initial report of the split-in-the-making this month.
"They have grown apart and their relationship is all about business these days rather than love or romance. They've built a brand together though, and that's very profitable for both of them, not to mention the amount of valuable assets and business ventures they have together."
Another source said that despite the evident friction, "There's no way Kris is going to go through with a divorce right now.
"She's determined to keep up the facade of a happy marriage at all costs. Showbiz and her career come way before any chance of divorce."
Bruce and Kris marked their 21st wedding anniversary this year.
Khloe Kardashian, Kim Kardashian and Kanye West were also at the game to cheer on Lamar Odom and the Clips, whose victory over the Denver Nuggets made for their 14th straight win.