What Divorce Plans? Kris & Bruce Jenner Go All Out To Show The World They Have A Very Happy Marriage!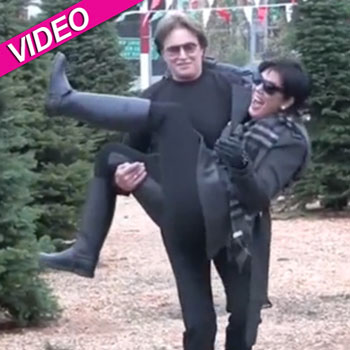 Article continues below advertisement
The couple put on their happy faces and hit up a Los Angeles Christmas tree lot Monday where they goofed around with each other, flaunting their relationship for the photographers.
"We are getting along pretty well, it's the holidays," the matriarch of the Kardashian family insists on camera, as she and Bruce shop for a tree just one week before Christmas.
Looking like they don't have a care in the world, Bruce, 63, even tried to pick up and carry Kris, 57, at one point, though he only managed to take her a few feet.
As RadarOnline.com reported, Kris is determined to maintain the façade of a happy union to make money and maintain the Kardashian brand.
"Kris and Bruce are all but over," a source previously told Radar. "They have grown apart and their relationship is all about business these days rather than love or romance.
"They've built a brand together though, and that's very profitable for both of them, not to mention the amount of valuable assets and business ventures they have together."
Article continues below advertisement
According to the source, the Jenners are not willing to publicly throw in the towel on their marriage just yet, and when they are, it's likely Kris will want to fully control how it happens.
"There's no way Kris is going to go through with a divorce right now, despite the problems they are having," the source says. "She's determined to keep up the façade of a happy marriage at all costs. Showbiz and her career come way before any chance of divorce."