Rihanna Posts Pic Of Her Hugging Her 'Baby' Chris Brown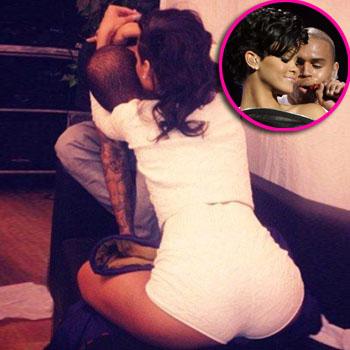 Talk about being 'Unapologetic,' Rihanna isn't hiding her feelings for notorious bad-boy Chris Brown.
After attending his concert in Germany, the Barbados-born singer shared with her Instagram followers on Thursday night a picture of her hugging the Forever singer ,whose Instagram handle is @F***YoPhotos, with a caption that read: "@f***yopictures I don't wanna leave!!! Killed it tonight baby!!!"
Article continues below advertisement
The pair were spotted enjoying a night out at Frankfurt's Adagio Club after the show.
Earlier in the day, Rihanna, 24, and Brown, 23, both also shared photos of their matching Rolex watches, with the Umbrella singer writing: "Don't believe me just watch #newtoy#justcusimnumber1 #roleylife #dopedealer."
RiRi also posted a pic of a shirtless Brown on Saturday night sprawled out on a bed. The next day, she tweeted a shirtless photo of herself.
Rihanna's decision to reunite with Brown this year has shocked many of her fans in wake of her brutal beating at his hands the night before the Grammy Awards in 2009. Brown received five years of probation, community labor and one year of domestic-violence counseling in connection with his beating of the singer.
While Rihanna is having a good week (she just landed her first No. 1 spot on the U.S. album charts), it hasn't been the best of times for the hot-headed Brown. Last week, the hip hop star canceled a huge stadium show in Guyana following protests from numerous women's rights organization.