Chris Brown Deletes Twitter Account After Vulgar Feud With Comedy Writer Jenny Johnson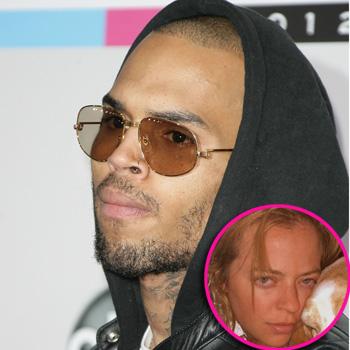 Chris Brown deleted his Twitter account late Sunday after a run-in with comedy writer Jenny Johnson, who matched the singer blow-for-blow in the wits department.
In the singer's final series of tweets, he wrote, "To teambreezy... Know that I'm not upset. Just felt like entertaining the ignorance. These b*****s crazy..Further proved my point of how immature society is. #CarpeDiem...Catch me in traffic..."
Article continues below advertisement
The drama began earlier Sunday when Johnson, who's considered one of the funniest presences on Twitter, re-tweeted what Brown wrote alongside an Instagram photo of himself -- saying, "I look old as f**t! I'm only 23…" -- to which Johnson added, "I know! Being a worthless piece of s**t can really age a person."
Brown responded by writing: "Take them teeth out when u Sucking my d*** HOE."
She took the opportunity to correct the singer's spelling by telling him: "It's 'HO' not 'HOE' you ignorant f**k," then drew attention to some of the other sexually graphic insults he made, adding, "Your mom must be so proud of you."
Johnson eventually tired of the argument, writing: "Okay. I'm done. All I got from that exchange with Chris Brown is that he wants to s**t and f**t on me."
But Brown, 23, was not finished. After calling Johnson "worthless" and a "thirsty bitch," he wrote: "Don't run for support now… Lol. Ur sic a comedic writer!!! If you can take a d***, u can take a joke."
But Johnson had ended her side of the conversation hours earlier. She signed off saying: "I have zero respect for a person who seems unapologetic for the terrible crime he committed and shows no signs of changing."
MORE ON:
hollywood happenings
Article continues below advertisement
It's not the first time Brown has deactivated his Twitter account, as he did so in late 2009, frustrated with negative publicity in the wake of his 2009 assault on Rihanna. Brown recently pulled out of a concert in South America after protests from local women's rights groups, angered by his actions three years ago.
As RadarOnline.com reported Saturday, Rihanna tweeted a photo of a half-naked Brown sleeping in a bed. The two were spotted hanging out together in Berlin, earlier this week and in a comment that may speak volumes about the current status of their relationship, Brown tweeted on Sunday night: "Just ask Rihanna if she mad??????"