Justin Bieber Booed By Canadian Football Crowd, Defends Wearing Overalls To Meet Prime Minister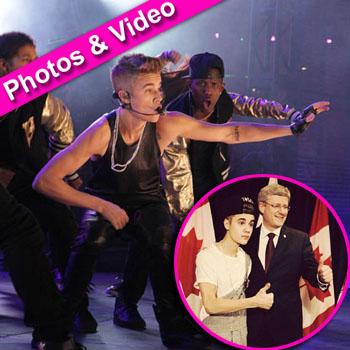 Canadian football fans attending the Grey Cup in Toronto treated Bieber Fever more like The Plague Sunday.
Justin, 18, was showered in boos before and during his halftime show performance, though Canada's prodigal son didn't let the hostile crowd throw off his game, showing no sign of duress while singing his hits Boyfriend, and Beauty and a Beat.
The Baby singer hailed the crowd, "Thank you so much Canada … I love you."
Article continues below advertisement
What likely caused the shower of jeers was a perceived disrespect on Justin's part earlier in the week, as he met with Canadian Prime Minister Stephen Harper wearing overalls and a backwards ball cap.
The Canadian leader didn't seem too upset by the slight, tweeting Sunday, "In fairness to Bieber…I told him I would be wearing my overalls too."
The on-again, off-again boyfriend of Selena Gomez later explained the lack of formality in addressing his homeland's leader.
Watch the video on RadarOnline.com
"The pic of me and the Prime Minister was taken in a room in the arena where i was performing at that day," he wrote on is Instagram account, "I walked straight from my meet and greet to him, if you...expect me to have a change of clothes let a loan a suit at that specific time that's crazy, It wasn't like it was like I was going into his environment we were at a hockey arena. Wow am i ever white trash."
Article continues below advertisement
Bieber's colleague Carly Rae Jepsen also took the stage Sunday, singing her smash hit Call Me Maybe, though the crowd seemed more welcoming of her.
Don't worry too much for the Biebs, who's still getting plenty of love south of the Canadian border, having defeated superstars Rihanna, Maroon 5, Katy Perry and Drake for the artist of the year honors at this month's American Music Awards.