Justin Bieber Tweets 'I'm Trying To Be Better' Amid Marijuana Controversy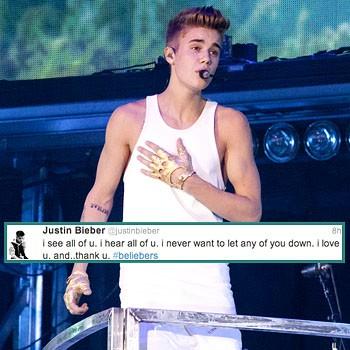 Justin Bieber is responding - sort of - to new photos that have hit the Internet of him smoking what appears to be marijuana with a group of friends.
"everyday growing and learning. trying to be better. u get knocked down, u get up," Biebstweeted just hours after the pictures went public.
"i see all of u. i hear all of u. i never want to let any of you down. i love u. and..thank u #beliebers.
"like i said...2013...new challenges. new doubters...Im ready. We are ready. see u all tomorrow and everyday after that," he wrote.
Article continues below advertisement
It's been a bad week for the pop star. Tuesday night, photographer Chris Guerra was killed as he was trying to take photos of someone he assumed was Bieber driving the singer's Ferrari. He was especially anxious to get the shot, several sources said after the tragedy, because he was after a picture of Justin smoking pot.
Justin and Selena Gomez also broke up again this week, this time seemingly for good.