Paparazzo Following Justin Bieber's Ferrari Hit By Oncoming Traffic, Dies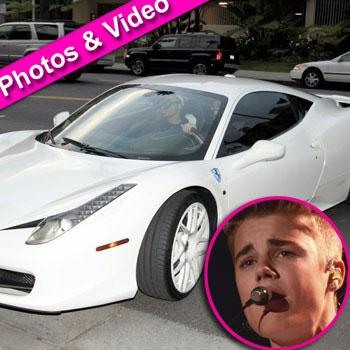 A paparazzo struck by a vehicle after taking pictures of Justin Bieber's Ferrari died at Ronald Reagan UCLA Medical Center in Los Angeles on Tuesday evening, police in Los Angeles said.
The Baby singer was not in his pricey white Ferrari, which had been pulled over by the California Highway Patrol, at the time the photos were taken, Los Angeles Police spokesman James Stoughton said.
The Ferrari was initially pulled over on the 405 Freeway just before 6 p.m. PT, and the driver parked on Sepulveda Boulevard near Getty Center Drive to communicate with the officer, Sgt. Rudy Lopez told the LA Times. KTLA reported the paparazzo was told by police, twice, to go back to his car.
Article continues below advertisement
As the freelance photographer -- identified as Chris Guerra -- was returning to his own car, he was hit by an oncoming car, police said, adding the driver of that vehicle won't likely face charges in the incident.
Bieber, 18, is one of the most-followed celebrities by the paparazzi, and has had many exchanges with them the past few years. In July, Los Angeles city councilman Dennis Zine said he witnessed both the singer and photographers unsafely driving on the freeway, leading him to contact CHP officers, who cited both Bieber and the paps in the incident.
Watch the video on RadarOnline.com
"While I was not present nor directly involved with this tragic accident, my thoughts and prayers are with the family of the victim," Bieber said in a statement. "Hopefully this tragedy will finally inspire meaningful legislation and whatever other necessary steps to protect the lives and safety of celebrities, police officers, innocent public bystanders, and the photographers themselves."