Exclusive
Fans Outraged Over Justin Bieber Back With Selena Gomez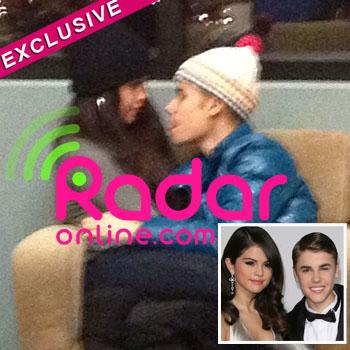 Justin Bieber may be "happy" to be back in the arms of Selena Gomez but his fans are seething!
Since Saturday when RadarOnline.com broke the news that Justin and Selena are steaming up their relationship again, his fans have been burning up Twitter with angry comments.
RadarOnline.com's exclusive report showed photos of the young love birds enjoying a PDA-packed holiday trip together.
As evidenced in the pictures, the two are giving their relationship another try and they were snuggling in the airport in Salt Lake City, Utah.
Article continues below advertisement
The snaps show Selena, 20, sitting on Justin's lap and they have their arms around each other.
They seem to be deep in conversation but Justin, 18, sticks his tongue out at Selena which makes her smile.
"They were very affectionate with each other," the eyewitness told us. "They were kissing on and off and they just sat together and talked and looked totally in love."
Justin and Selena were rumored to have been vacationing with her bestie Taylor Swift, who is in the ski resort town with her new boyfriend, One Direction's Harry Styles.
While Justin tweeted "happy times" Saturday, RadarOnline's report seems to have touched off sadness and even anger among his fans.
One fan tweeted: "I am disgusted," along with a link to RadarOnline.com's exclusive report.
Another one who goes by @strongforjieber wrote: "Go back to your own friends and family. let justin breath and get your tongue from down his throat @selenagomez."
A Bieber follower who uses the name @CatchThatBieber posted: 'Oh wow. that's obviously how he thanks her for humiliating him in public. do you have a bit of dignity left?"
Article continues below advertisement
While a female fan named Michelle tweeted: "Your relationship is faker than joan rivers face @justinbieber @selenagomez"
But there is at least one person who likes the idea Justin and Selena rekindling their romance.
A young woman named Rebekka tweeted RadarOnline.com's story along with the comment "I actually find this really cute though.
RELATED STORIES: