Emma Stone And Andrew Garfield Use Paparazzi To Promote Good Cause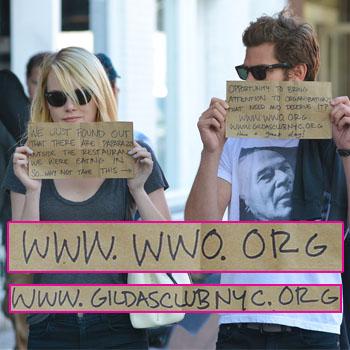 Some celebrities love the attention from the paparazzi while others not so much.
But Emma Stone and Andrew Garfield have found a novel way to make use of the shutterbugs who follow them around.
The couple was on a lunch date at an East Village restaurant in NYC on Saturday when they used the opportunity of being snapped to bring awareness to two charities close to their hearts.
They did it holding up handwritten messages on pieces of cardboard in front of their faces.
Article continues below advertisement
"We just found out that there were paparazzi outside the restaurant we were eating in. So... why not take this opportunity to bring attention to organizations that need and deserve it," they wrote followed by links to two charity websites, wwo.org and gildasclubnyc.org.
Gilda's Club New York City is the local branch of the support organization for people suffering with cancer. It's named after the late Gilda Radner who was one of the original cast members of Saturday Night Live. Worldwide Orphans Foundation helps transform the lives of children without parents around the globe.