The Amazing Spider-Man: Catch A Sneak Peek Here!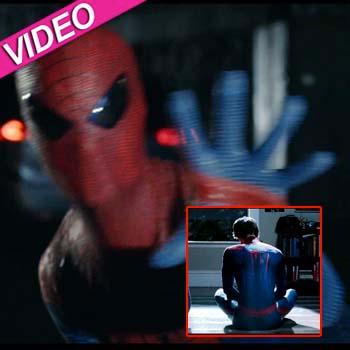 The Amazing Spider-Man hits theaters soon and RadarOnline.com has obtained an exclusive sneak peek clip from our pals at Yahoo! of what's sure to be one of the summer's biggest blockbusters.
Fans are eagerly awaiting Andrew Garfield's turn as Peter Parker and his real-life girlfriend Emma Stone as Gwen Stacy in what has been promised to be the "untold" story of Spider Man.
This film is the only Spidey movie in 3D and it reveals new details about Peter Parker and his family — in which audiences will meet Parker's parents for the very first time and the Lizard will make an appearance.
Article continues below advertisement
Up until now, his alter ego has only appeared on the big screen, but in The Amazing Spider-Man, the villain will finally be unveiled!
In the clip below, it appears Spidey has his powers and he's experimenting with them. Although the authorities don't understand his motives and think he's the villain, that doesn't stop the masked hero from fighting crime and wrangling the real bad guys.
The Amazing Spider-Man opens nationwide on July 3.