Definitely No Bromance! Rob Pattinson & Andrew Garfield 'Can't Stand Each Other!'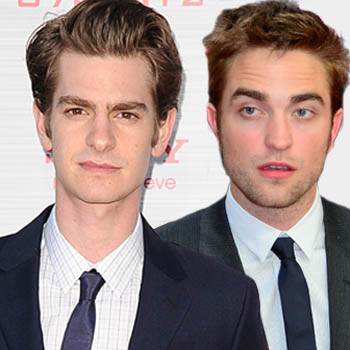 They may both be Brits abroad living the Hollywood dream but don't expect to see Robert Pattinson, 26, and Andrew Garfield, 28, out and about enjoying a pint together anytime soon!
In fact, according to a new report, the two actors "can't stand each other" and go out of their way to ignore each other when thrown together in social situations.
"The truth is, Andrew can't stand Rob," a source tells Us Weekly. "Andrew hates that they're put in the same category because they're both English and around the same age."
Article continues below advertisement
An eyewitness who spotted the two at last month's wedding of mutual friend, Kevin Turen, confirms there's no love lost. "They don't enjoy hanging out," the source says. "Andrew considers himself a 'serious actor' and sees Rob as the equivalent of a cheesy boy bander because of Twilight."
As RadarOnline.com previously reported, Pattinson has a habit of being combative with his fellow Brits.
Pattinson sank his teeth into London-born pop star Adele in February at the Grammys and later revealed his remorse over the altercation.
"I had this argument with Adele, which is probably the most ridiculous thing I've ever said," he told Canada's George Stroumboulopoulos Tonight.
"I was saying, 'You know, you can really just like reach for it,' and she was like, 'You do realize I am like the biggest-selling female artist ever?'"
Rob explained that's when he decided to get into it with her.
"And I just for some reason just decided to get into an argument with her," he said.