Real Life Tarzan Coming To America To Live Hollywood Dream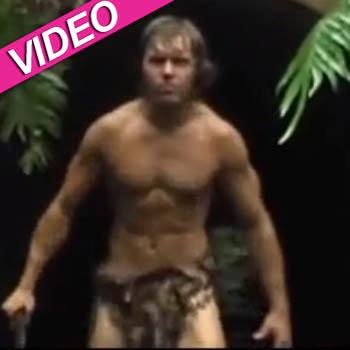 By Debbie Emery - RadarOnline.com Reporter
An aspiring actor from South Africa who has been living as Tarzan in the hope of landing his dream role has become a viral video sensation after filming his loincloth-clad jungle life.
DeWet Du Toit, 25, is so desperate to be cast in the iconic role that he spends four days each week running barefoot and nearly naked through the forest, eating nuts and berries, swinging through trees, and often sleeping overnight on tree limbs – and captures it all on tape.
Article continues below advertisement
The obsessed fan's antics have paid off, and along with thousands of views on YouTube, he has now been invited to attend a Tarzan festival in Louisiana, and a meeting with a Hollywood director, reported ABCNews.com.
Du Toit first became fascinated with the Lord Of The Jungle as a child, and became determined to become the next Johnny Weissmuller three years later when he read an article online that said Warner Brothers was planning to produce a new film about the colorful character.
"I started reading everything I could about Tarzan. Then spending lots of time in the forest, running, jumping, climbing. Working on acting and dialogue," said the professional bodybuilder, who admitted that everyone thought it was a joke at first.
Along with his homemade audition tape, Du Toit posted his own 1-hour Tarzan movie on Vimeo. Next stop is the deep South when the native of Namibia will travel to Morgan City – where the original silent movie was filmed – to be a special guest at the Tarzan: Lord of the Louisiana Jungle festival.
Article continues below advertisement
"I'm so excited. I have never been to the United States and this is a chance to get so close to my dream," he gushed.
But, sorry ladies, the hunky South African is not yet looking for his real life Jane. "Right now, a girlfriend would be a distraction," said Du Toit.
Watch Du Toit as Lord of the Jungle and tell us what you think about his performance: