Paris Hilton Falls Down In Scuffle With Paps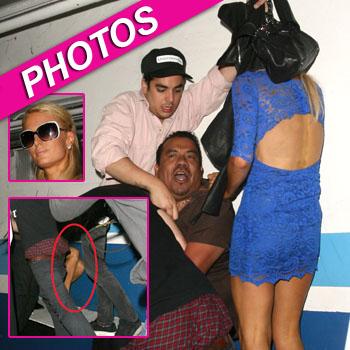 Despite whispers her time has come and gone, Paris Hilton still has the paparazzi fighting over her as if her name is .
The Stars Are Blind singer, clad in a revealing blue dress, was caught in the midst of a clash between two shutterbugs in a parking structure as she and fellow Hollywood heir Brandon Davis left the West Hollywood club Bootsy Bellows on the Sunset Strip Tuesday night.
The conflict was apparently triggered when someone in Paris's entourage tried to remove the camera out of one of the photog's hands, only to have the pap flail back with the camera.
Article continues below advertisement
One pap fell back into the hotel heiress, who was pushed into a wall. The flustered socialite hiked down her dress after getting some distance from the rowdy pack.
As we previously reported, an insider says Paris might avoid such tomfoolery if she could act her age, saying Paris "is still going to clubs on a very frequent basis and she is 31-years-old. You don't see a lot of people over 30 going to clubs.