Justin Bieber's Miami Arrest: Toxicology Test Results Reveal Marijuana & Xanax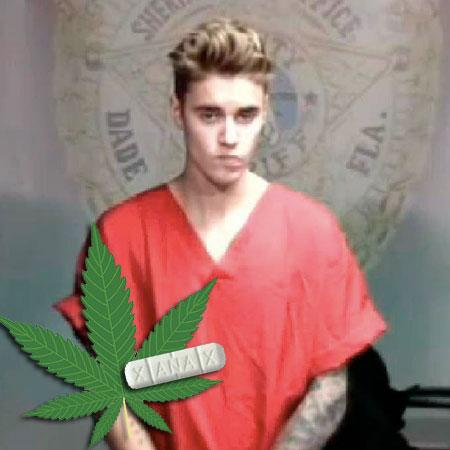 Justin Bieber, after his arrest in connection with DUI and drag racing arrest in Miami Beach last week, tested positive for both marijuana and Xanax via a urine test, RadarOnline.com has learned.
While authorities have yet to release results of the singer's toxicology tests officially, a police source informed Miami's NBC 6 of the ongoing development in the case, after Bieber himself told officers he'd imbibed with beer, marijuana and prescription medication prior to his Jan. 23 arrest. On Wednesday, the 19-year-old, via his lawyers, pleaded not guilty to charges of DUI, resisting arrest and driving with an expired license in Miami-Dade County.
Article continues below advertisement
Watch the video on RadarOnline.com
As we previously reported, the "Boyfriend" singer was described as "excited, talkative, profanity, cooperative, insulting, and cocky" in a report taken by arresting officers. Asked about the Xanax, Bieber was unable to tell police the specific medications he was using, as his mother "takes care of all that stuff for" him.
Taking a breathalyzer test turned out to be a comedy of errors for the Biebs as well, as it took four attempts for him to do it properly, registering (under-the-legal-limit) BACs of .014 and .011 when he did.
Bieber's arraignment in that case is slated for Feb. 14; the legally-embattled teen also turned himself in on an assault charge in his native Canada Wednesday, as he's accused of hitting a limousine driver in the head Dec. 30 while in Toronto. He's scheduled for a court date of March 10 in that case.