Justin Bieber Charged With Criminal Assault After Surrendering To Toronto Police Station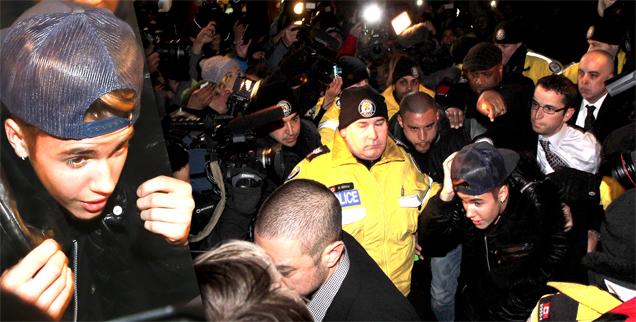 Justin Bieber arrived at a Toronto police station to turn himself in on Wednesday and was charged with criminal assault, RadarOnline.com has confirmed.
Bieber, 19, pulled up to the station in a black SUV to a hoard of media and gaggle of teenage fans who were camped out in anticipation of his entry.
It only took less than a minute for Bieber to make his way through the crowd, surrounded by authorities, but reporters screamed as they said children and little kids were being trampled by overzealous fans and photographers.
Article continues below advertisement
The Canadian pop star arrived in Canada on Wednesday to "answer to an assault charge over an incident with a limousine driver that happened last Dec. in which investigators believe Bieber, a Stratford, Ontario, resident" was in the limo at the time of the alleged attack" against the unnamed driver, a source said.
Authorities in Toronto have been interviewing potential witnesses that reportedly fingered the "Baby" singer as being directly involved in the incident.
A first-time assault conviction in Ontario usually results in a fine of up to $2,000 and/or 18 months in jail.
The sentencing can also include probation and anger management therapy.
Bieber's meeting with Toronto police is the latest in the troubled pop star's life, as he was arrested last week in Miami for a DUI, drag racing, resisting arrest and driving on a suspended license.
Bieber's attorney entered a not guilty plea for him on Wednesday via written submission to Miami-Dade County.