Exclusive
Jealous Of Jess? Kim Kardashian Envies How Jessica Simpson's 'Managed To Get That Lean Look' She's 'Always Dreamed Of'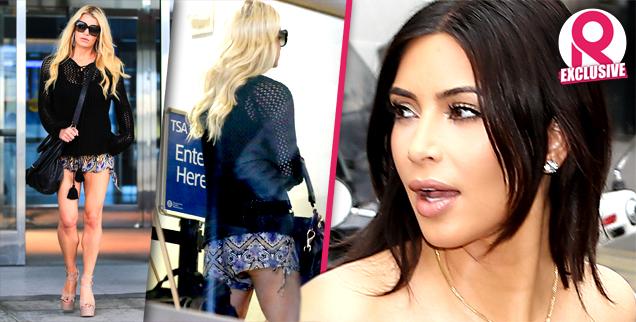 Kim Kardashian might not love her curves as much as people might think, as an insider says she's in a body war with fellow hourglass hottie Jessica Simpson, who has slimmed down considerably thanks to Weight Watchers.
"Kim has been watching Jessica's phenomenal body transformation very carefully," the insider said. "Jessica's latest triumphant pictures show that she's achieved a streamlined shape that has Kim in tears of envy."
Article continues below advertisement
Kardashian, 33, lost 50 pounds after giving birth to baby daughter North West last year and displayed her curvy shape in her white wedding gown while marrying Kanye West weeks ago.
But the source says she's still envious of Simpson, also 33, and a mother-of-two. While Simpson is getting ready to marry her baby daddy Eric Johnson, 34, Kardashian suspects the Dukes of Hazzard beauty has upped her weight loss game.
"Jessica's managed to get that lean look Kim's always dreamed of and Kim is convinced she's doing more than just Weight Watchers," the source said, adding that the new bride has been "trying to recruit members of Jessica's team to find out exactly what she's doing."
While publicly they have supported each other as curvaceous stars, the source said that privately, the two aren't fans of one another.
In 2009, Kardashian blasted Fox for making fun of Simpson's weight in a commercial, saying she has "such an amazing body."
Article continues below advertisement
Last year, Simpson said she "felt for Kim" when the Keeping Up with the Kardashians star faced criticism for her large pregnancy weight gain.
"I knew exactly what she was going through — I know she'll come back with a bang," Simpson commented in 2013.
But the source noted that the two have "a long-standing rivalry and have always kept their distance.
"Despite Jessica defending Kim's size during her pregnancy, Jessica has always wanted to oust the Kardashian sisters out of the spotlight.
"In fact, it's something she and her sister Ashlee talk about all the time."