Exclusive
Shredding For The 'I Dos?' Inside Kim Kardashian's Scary 'Starvation' Diet Before Her 'Big Fat Florentine' Wedding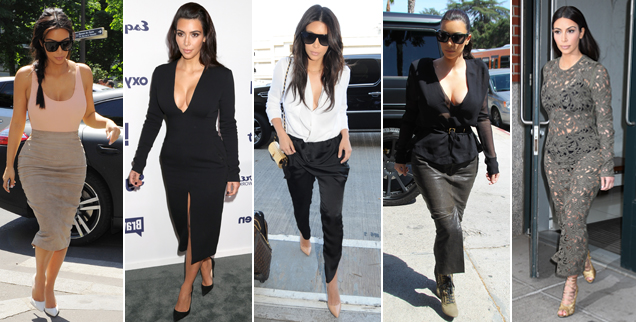 Kim Kardashian's wedding to Kanye West is quickly approaching, and to look her very best the reality TV star has been on such a restrictive diet that she's practically starving herself to fit into her dresses, RadarOnline.com is exclusively reporting.
"Kim is eating under 600 calories a day," an insider told Radar.
"She'll have a protein smoothie in the morning mixed with water and ice, which is only about 100 calories, then she'll have a green juice without fruit, another 50 calories. Sometimes she'll have hummus and celery or cucumbers when she is feeling faint or starving or half an avocado mashed up."
Article continues below advertisement
And as a rare treat, Kardashian, 33, might munch on some veggies or seafood — and is even using a weight loss tactic used by Beyonce.
Occasionally she'll treat herself and have some shrimp and veggies stir fried, but that also is all under 100 calories. To top it off she'll do that Beyonce master cleanse some days as well, which is just water, agave or maple syrup, and lemon juice," the source said.
"But she feels great and her skin is glowing!"
The insider says that when Kim only eats 600 calories it's still starving herself since with that little fuel your body will shut down and go into self preserve mode and use her own fat for fuel.
So even though Kardashian and West were recently snapped getting ice cream in Paris, it's a different story when cameras aren't rolling.
And to top it off, Kim's insecurities have escalated since she walked the red carpet at the Jacob Javits Center to plug their upcoming season of E!'s Keeping Up With The Kardashians and had a booty-off with sister Khloe.
Article continues below advertisement
REVEALED: 35 Secrets The Kardashians Want Hidden
While it's Kim that's usually known for her dangerous curves, it was a shock when Khloe debuted a bootyilicious backside that rivaled her sister.
"Khloe's curves are insane right now," a family insider told Radar.
"Who knew what was hiding in that body! Kim was complaining the whole way before her Upfronts meetings with E! for their TV show how Khloe was so toned and looked so hot in her outfit. She was clearly jealous of Khloe. She even said it over and over and over again to the point that everyone said, 'We get it: Kiki is jealous of KoKo!'"
Who do you think has the better Kardashian body right now — Kim or Khloe? Sound off in comments below…