Kim Kardashian On Engagement, 50-Pound Weight Loss & Her 'Big Middle Finger To The World'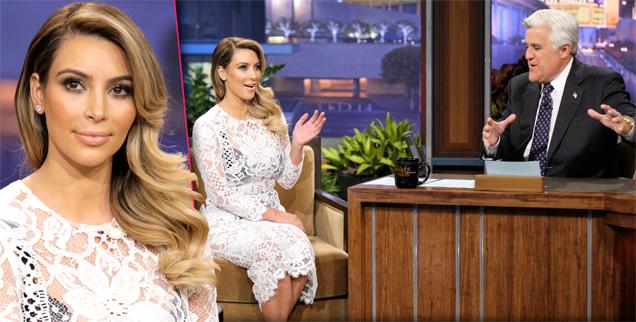 Kim Kardashian made a triumphant return to The Tonight Show Wednesday, showing off her post-baby body -- which is 50 pounds lighter in four months -- in a sexy lacy dress, and filling Jay Leno in on details of her engagement to Kanye West, their pending wedding, and their baby daughter, North.
"I'm very happy right now," she said, calling last week's birthday/engagement to West "the most magical night of my life."
Article continues below advertisement
She showed off her 15-Carat Lorraine Schwartz ring to Leno, describing how West micro-managed every detail in the production of the exquisite piece of jewelry.
"He's so creative, so passionate about everything in life," she said of her fiance.
She said she'll be deferential to the hip-hop star in planning for the wedding, dovetailing with RadarOnline.com's report that West has been something of a Bridezilla" since their engagement was announced.
As for her weight loss, he 33-year-old socialite proudly declared, "I got on the scale today and it said that I am 50 pounds down -- that made me so excited."
She said the sexy selfie she posted to Instagram served as a "big middle finger to the world" for the flak she received for gaining weight during her pregnancy.
Kardashian said the bloggers' jabs "really hurt my soul" and "changed how I am in public," causing her to "live more of a private life."
Article continues below advertisement
"Why would I subject myself to so much negativity?" she said. "Especially now that I have a daughter. I just don't need that energy. I rather be in a happy place, when I'm home."
Kardashian said she and Kanye are discussing a possible summer wedding in France, admitting, "We haven't had time to sit down and talk about it."
She said that despite his recent separation from her mother Kris, Bruce Jenner will indeed walk her down the aisle in the celebrity wedding.
The Tonight Show airs weeknights at 11:35/10:35c.