Take That Haters! Kim Kardashian Gets Last Laugh With Sexy Selfie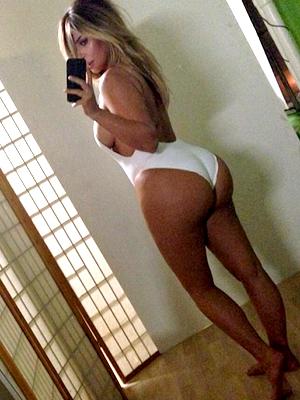 It was only a few months ago an expectant Kim Kardashian was daily grist for the mill of bloggers quick to mock the sex symbol for her expanded figure.
Those days are clearly over, as the 32-year-old socialite, who was up reportedly to 210 pounds at her max, showed off her jaw-dropping form in a swimsuit selfie she posted to her Instagram account with the hashtag, #NoFilter.
Equally enthusiastic, understandably, was her baby daddy Kanye West, who re-tweeted the shot with the caption, "HEADING HOME NOW."
Article continues below advertisement
As we previously reported, Kim's on track to get back to her regular weight (which is around 120 pounds) sooner than later with a mix of exercise, and strict adherence to the Atkins diet.
"Kim is committed to keeping the weight off -- she doesn't want to be the butt of jokes again," an insider said.