Hypocritical, Much? Kelly Osbourne, 'It's Deplorable To Call Pregnant Women' Like Kim Kardashian 'Fat'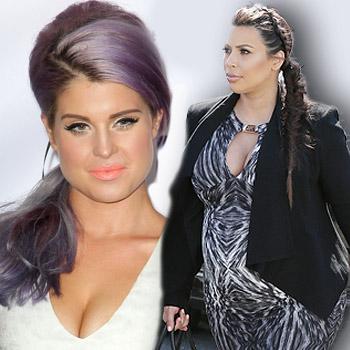 Kelly Osbourne has no qualms about calling people fat – unless they are pregnant!
The Fashion Police star, who was involved in a battle with Christina Aguilera after slamming The Voice coach for being fat, took to Twitter on Tuesday to defend Kim Kardashian's weight haters, stating that it is "deplorable" to call a pregnant woman fat – and RadarOnline.com has the details.
"Your Girl Kim Throughout out her pregnancy has been called Fat, What do you think about that?" a fan asked Kelly during a Q&A tweeting session with Cosmopolitan, regarding Kim's pregnancy weight gain.
Article continues below advertisement
"@ForeverKardash I think its deplorable to call any pregnant women fat!" Kelly responded.
Osbourne infamously slammed the Dirty singer for her weight gain, calling her a "fat b**ch" on The Fashion Police in 2011.
And interestingly enough, Kelly, who recently slammed Lady Gaga by calling her a hypocrite, revealed that she doesn't let haters bothers her because she believes that they are they ones with the issues!
MORE ON:
Christina Aguilera
"When people say awful things to you how do you stop it from getting to you?" someone asked her.
"People who say terrible things are usually saying what they think about themselves," she responded.
Do you think Kelly is a hypocrite? Sound off below.