Bigger & Badder! Kanye West Says His 'Summer' Wedding To Kim Kardashian Will Include 'Fighter Jets' Demonstration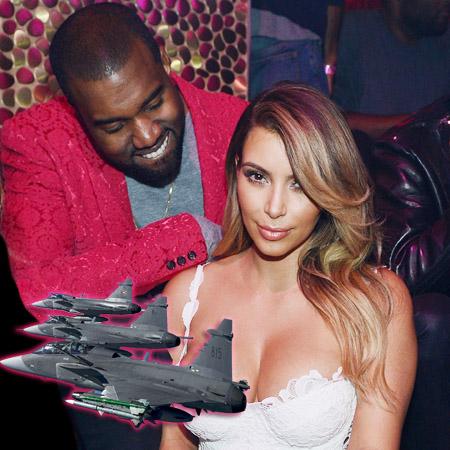 Kanye West said he'll marry Kim Kardashian next summer in an over-the-top wedding that will include a demonstration from "fighter jets."
The Yeezus rapper opened up about plans for his nuptials to Power 106's Big Boy Neighborhood show, where he dished on his surprise engagement to the world's most famous reality star.
"I wanted to marry that girl from the first time I saw her," he told the L.A.-based radio show. "I just had to wait through a bunch of relationships to finally get my chance. It's just patience. You know with certain things, you're like, 'Yo, this is what's right for me, and this is what I should be doing.'
Article continues below advertisement
"And you gotta be patient."
He jokingly said sorry to men for the lavish display he put on at San Francisco's AT&T Park, the day of Kim's 33rd birthday.
"I gotta apologize to the race of males for turning it up so much," he said, adding he "was nervous a little bit" about the proposal, and "about everything being on cue."
Sounding like a tad of a detail freak, Kanye said, "They didn't have the lights exactly how I wanted them to be."
Of the mega-fancy Lorraine Schwartz-designed ring he presented the reality star, he said he "worked with four different jewelers" so as "to get that ring right.
"Three rings were made and only one actually hit the finger ... I actually changed the ring the night before. That ring was less than four hours old when I gave it to her."
For more on Kimye's engagement, stay right here on RadarOnline.com.