Kim Kardashian & Kanye West Are Engaged!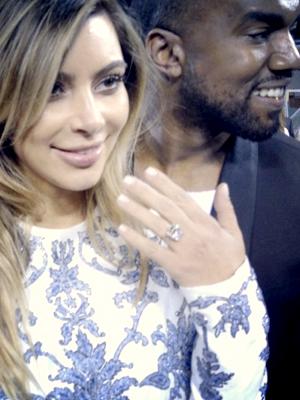 Kim Kardashian and Kanye West are engaged, RadarOnline.com has learned.
According to Kim's home network of E!, the rapper rented out San Francisco's AT&T Park for the socialite's 33rd birthday, where he successfully asked the mother of his child for her hand in marriage. When Kanye proposed, the scoreboard read, "PLEEEASE MARRY MEEE!!!"
As for the bling? It's a 15-carat beauty designed by jeweler to the stars Lorraine Schwartz, who ironically designed the ring for Kim's ill-fated marriage to Kris Humphries (who sold it earlier this month for a tidy profit).
Article continues below advertisement
Musical ambience came from a 50-piece orchestra, which prattled off Lana Del Rey's "Young and Beautiful," Kanye's "Knock You Down," and songs by Keri Hilson and Ne-Yo.
As we previously reported, Kim delivered their daughter North June 15 at Cedars-Sinai Medical Center in West Hollywood.
The 33-year-old reality superstar, who was previously married to Damon Thomas and Kris Humphries, told Cosmopolitan in February that exchanging "I do's" with the Grammy-winner, 36, was a priority, but not a pressing one.
"I have this best friend who understands me and helps me through all my tough experiences, and vice versa, you know?" she said. "It just feels like this is it for me."
The "Through The Wire" rapper had a busy day, as he was in Southern California earlier Monday to present at the 2013 Hollywood Film Awards, where he was seen rubbing elbows with 12 Years a Slave director Steve McQueen. Perhaps in preparation for what could be one of they most expensive, extravagant celebrity weddings ever, Kanye will get right back to work on his Yeezus tour, as he plays San Jose Tuesday.