Heartbreak Pays! Kris Humphries Made $500K Profit On Sale Of Kim Kardashian's Engagement Ring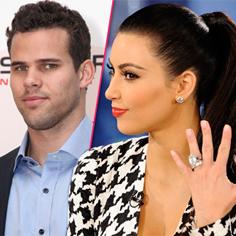 Article continues below advertisement
What's more, RadarOnline.com has learned, 32-year-old Kim doesn't care about the sizable chunk of cash Humphries pocketed, because she's moved onto greener pastures: baby daddy Kanye West!
"Kim only gave it back after she got pregnant with Kanye's baby and boasted during divorce proceedings, 'Kris can have the ring back because Kanye is going to give me a flawless diamond engagement ring that makes my previous ring look like a Cracker Jack prize!'" our spy revealed.
The ring's designer Lorraine Schwartz wasn't pleased the ring -- a 16.2-karat emerald cut stone, surrounded by 1.8-karats of side diamonds -- wasn't returned to her, according to the source, as she gave the as NBA star a "HUGE discount" on it in the first place, the source said.
"He could have returned the ring, very low-key and would have had his money returned," the source said.
"Lorraine Schwartz took a huge loss on it, and would have appreciated first offer of refusal before it was put up for auction."
As we previously reported, Schwartz sold the NBA forward the ring at "less than cost," insiders said, as at the time, he "could have never afforded such an extravagant engagement ring for Kim."
---
UPDATE 10:41 a.m. -- A source close to Kris tells RadarOnline.com, he intends on "donating a portion of proceeds to charity, including his own that benefits children." He isn't revealing how much he is planning on donating -- yet.