Battle Of The Bling! Did Kanye West, Kris Humphries Or Damon Thomas Give Kim Kardashian A Better Ring?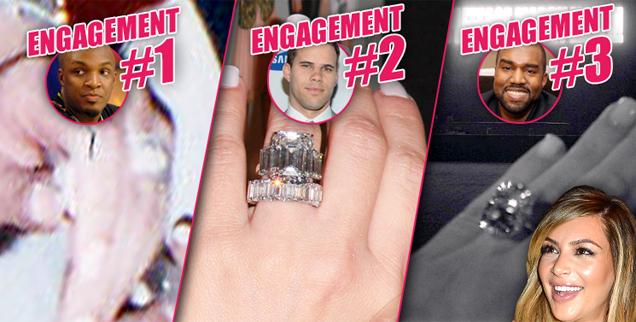 Article continues below advertisement
As for Humphries -- a middling NBA player mega-wealthy by societal standards, but not even near Kanye's financial zip code -- he gave her a 16.2-karat emerald cut stone, surrounded by 1.8-karats of side diamonds, also designed by Lorraine Schwartz, which (ironically) sold last week in an auction for $750,000 -- a bargain of its' estimated $2 million value.
Humphries "could have never afforded such an extravagant engagement ring for Kim," without a huge discount from Schwartz, a source said. The jeweler sold it to him at $250,000 -- "less than cost" -- explaining how he was able to turn a profit.
In another of the greatest ironies, a source told us that after Kim became pregnant with North, she was reportedly cavalier about returning Kris' ring, saying he "can have the ring back because Kanye is going to give me a flawless diamond engagement ring that makes my previous ring look like a Cracker Jack prize!'"
So readers, we throw it to you: Does Kanye's ring make Kris's look like a "Cracker Jack prize?"