Oh Yeezus: Kanye West Is 'Turning Into A Bridezilla' As He Plans Wedding To Kim Kardashian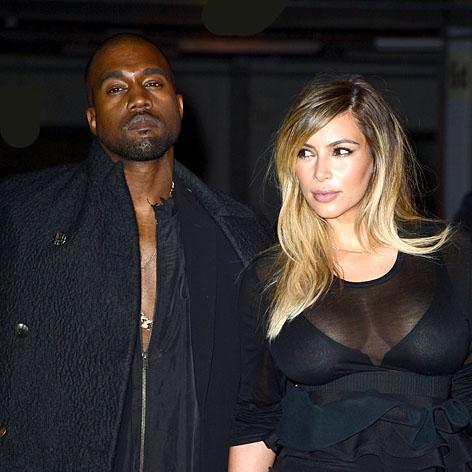 Typically a lot happens to a WOMAN somewhere between "Will you marry me?" and "I do" -- but in the case of Kanye West and Kim Kardashian, the roles are being reversed.
Invitations haven't even been sent out for highly-anticipated West-Kardashian nuptials, but the rapper is "turning into a bridezilla and plans on overseeing all details of the over the top event," according to a source close to the reality television family, who is speaking out to RadarOnline.com.
Article continues below advertisement
"Kanye has a very specific vision of what the ceremony should look like and this won't be an understated or intimate event," even though it will be 33-year-old Kim's third marriage, the insider added.
"Kanye wants the wedding to take place in Paris and has even indicated that he is willing to fly over Kim's family on his dime."
The E! star hinted at Kanye's transformation to wedding planner at her birthday event in Las Vegas last Friday, declaring that she'll be happy with "whatever" her fiancé wants.
"We honestly haven't had a moment to talk about it or even breathe... but whatever he wants," she told PEOPLE.
In reality, however, the pair has begun dreaming their big occasion, the source said.
"Kim is just letting Kanye take charge, as she has done with all other parts of her life. She is being consulted on everything, but it's very different from how Kim handled her wedding to Kris," the insider added, pointing to second husband Kris Humphries, who she split from after just 72 days.
Article continues below advertisement
"That was Kim's wedding. This is going to be Kanye's wedding."
During a radio interview with Power 106's Big Boy Neighborhood, West revealed that the over-the-top "I Do's" will include a demonstration from "fighter jets."
"I wanted to marry that girl from the first time I saw her," he told the Los Angeles-based radio show.
"I just had to wait through a bunch of relationships to finally get my chance. It's just patience. You know with certain things, you're like, 'Yo, this is what's right for me and this is what I should be doing.' You gotta be patient."
Expect 19-time Grammy Award-winner West to also "see sketches of Kim's wedding dress, even though it's considered taboo for the groom to see it before!"
"Kanye considers himself to be an expert at fashion and wants Kim to look her best on their wedding day," they said.
"He wants a dress that will show off her figure, including her infamous rear end!"