Exclusive
Kanye's Not In Kontrol: Kim K. Picked Out 15 Carat Engagement Ring Herself -- 'Knew Proposal Was Happening'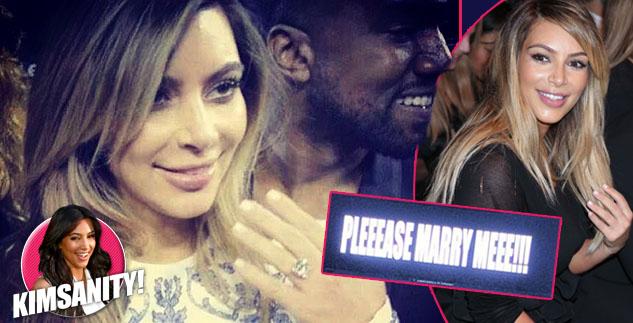 Surprised? Hardly. Kim Kardashian picked out her spectacular 15 carat diamond engagement ring herself -- because she knew her baby daddy Kanye West was going to propose, RadarOnline.com has learned.
"Kim had picked out her own Lorraine Schwartz engagement ring," a source close to the Keeping Up with the Kardashians star has revealed.
The reality beauty "told Kanye to get the ring from Lorraine Schwartz because she loves the jeweler's diamonds. She knew the proposal was happening, she just didn't know when it would happen."
Article continues below advertisement
Kim's second husband, basketball player Kris Humphries, paid between $200,000-$300,000 for the massive Lorraine Schwartz 16.2 carat diamond ring he gave her for their 2011 engagement.
Because of the publicity value, Humphries got a huge discount as the ring was estimated to be worth $2 million. But the couple's marriage collapsed after only 72 days and Humphries recently sold the ring at auction for $749,000.
With jeweler Schwartz, the source said, "Kanye got a significant deal on the ring just as Kris did because of all the publicity it will get. Before Kim gave the ultimate seal of approval on the sparkler, Kanye looked at over 20 diamonds. The diamond has no flaws and has more sparkle than Kim's previous ring."
The ring could be worth at least $3 million, jewelry experts estimate, but according to the source, Kanye paid less than $500,000 -- and made sure the ring was bigger than the one Kris gave her!
Article continues below advertisement
Although the ring itself wasn't a surprise to Kim, the Monday proposal on her 33rd birthday was!
The rapper had rented out AT&T Park in San Francisco and had invited a crowd of friends and family to share the engagement joy after they poured out of the baseball dugouts.
The source told RadarOnline.com Kim has already started planning her third wedding extravaganza and she wants to walk down the aisle after Kanye's Yeezus tour ends in 2014.
"She may even have this one be more over-the-top than her wedding to Kris, with several possible ceremonies and receptions," the source said.
And as a loving tribute to their family, the source revealed there will be one little star for the day, their daughter North, who was born in June.
"Kim wants Nori to walk down the aisle as a flower girl."